Uniti
1. Profumi
Il risveglio nella fattoria fu un momento piacevole, non sapevi quanto avevi dormito ma probabilemente oltre 10 ore. Un sogno strano, non ricordavi bene, un neonato che piangeva da solo nel mezzo di una stanza vuota, un sogno senza tempo che ti diede la consapevolezza di quanto di sentissi abbandonato. Il neonato che avevi sognato eri tu, da solo, adesso che anche Sara non ti riconosceva più. Una sensazione che da non dava più spazio alla disperazione. Questa fu una considerazione fulminea, netta e precisa. Eri abbandonato dal mondo intero, anche da tua moglie, ma non provavi quella disperazione inevitabile che la logica ti avrebbe imposto legittimamente. In quell'Aprile pieno di fiori ti sentivi come guidato da una consapevolezza diversa, la consapevolezza di essere come l'ultimo dei sopravvissuti. Sapevi che non eri l'unico e che tanti altri indossatori stavano cercando regioni del mondo da ripopolare. Ti alzasti da letto, apristi la finestra e semplicemente ammirasti la bellezza della campagna intorno, il cinguettio dei fringuelli, il calore del sole, i colori infiniti della primavera e soprattutto i profumi. Non avevi rimembranza alcuna di profumi cosi netti, precisi, distinguibili. La tuta era dotata di un filtro che bloccava esclusivamente la taglia nanometrica dei virus, ma lasciava passare tutto il resto. Il tuo naso sembrava ipnotizzato da tutti quei profumi di una primavera incantata, di una natura alla quale non ti sentivi più estraneo, nonostante quella tuta di confinamento forzato. Ti sentivi di nuovo incluso e quella fu una bella scoperta.
Sentisti dei rumori provenienti dalla camera di Sara e la porta che si apriva. Sara zoppicava vistosamente appoggiandosi alla porta fece qualche passo. Vi guardaste per qualche istante in silenzio. Per un istante la tua speranza che quello che era successo il giorno prima fosse svanito e che lei avesse ritrovato la memoria si fece forte. Qunidi Sara disse:
"Come stai?" "Bene grazie e tu? Come hai dormito?"
Con un'espressione assente rispose "Bene, ma dove siamo?"
"Siamo in campagna e siamo riusciti a sfuggire a quel branco di cani randagi affamati."
Guardandoti con attenzione rispose:
"Si mi ricordo bene, ma non riesco a ricordarmi altro, tranne il fatto che noi due abbiamo molte cosa in comune, ho come delle immagini di noi in diverse situazioni, ma non riesco a collegarle."
Prese un bel respiro, ti guardò e poi aggiunse:
"Una cosa comunque l'ho capita che di te mi posso fidare e che ieri mi hai salvato la vita"
Poi si avvicinò e impovvisò una carezza che ti fece commuovere.
2. La bici
Deste un'occhiata alla casa e controllaste i parametri di contaminazione scoprendo che quella casa era infetta e che il virus era riuscito a sopravvivere molto bene sulla maggiorparte dei materiali. Le ultime notizie ricevute a casa durante l'emergenza furono che i materiali più artificiali permettevano una migliore conservazione del virus. Uscendo da quella casa decideste di comune accordo di proseguire in direzione sud, ma non era possibile per Sara di continuare a camminare, le sue fratture le procuravano un dolore troppo forte, nonostante che la tuta fosse dotata di antidolorifico. Cercando intorno alla fattoria scopristi alcune biciclette dimenticate nel fondo di un garage, e con grande sorpresa una bici eletrrica doppio posto, non un tandem, ma una bici con guida da seduti in basso. Inoltre la bici era dotata di un pannello solare come tetto e di un rimorchio con pannello solare incluso. La gioia di scoprire un veicolo del genere fu grande, restava da vedere se funzionasse. Quindi la tirasti fuori dal garage, il display non si accese subito, ma già dopo qualche minuto iniziò ad indicare la potenza di carico e quella presente nell batteria. lo dicesti a Sara, che esclamò di gioia. Decideste di aspettare ancora due giorni per permettere alla bici di ricaricarsi e a voi di riposarvi. La bici aveva ancora la targhetta del SunTrip una corsa dedicata a tutti gli appassionati di bici solare che dalla Francia arrivava fino alla Cina. Ovviamente l'elettricità cominciava a scarseggiare ed era stata regimentata, inoltre non avevi trovato il carica betterie. Il sole stava facendo un lavoro perfetto.
La direzione
Non sapevi veramente perchè sceglieste il Sud come direzione. Non avevate alcuna dato, l'unica certezza furono soltanto le ultime statistiche condivise dalla Protezione Civile riguardo l'Italia e i raggi ultravioletti del sole che sembravano essere gli unici migliori metodi di sterilizzazione. Prendendo semplicemente una tenda trovata sempre nel garage e alcuni attrezzi vi metteste in cammino senza esitare ancora. La strada nazionale era deserta e il vostro GPS vi stava guidando efficacemente, cercando di evitare le grandi città. Saltaste Parma, Piacenza, riusciste comunque a imboccare una strada non asfaltata che seguiva il Po' e decideste di seguirla fino a Ferrara, dopo di che continuaste verso Bologna sempre evitando accuratamente le grandi tendopoli che erano state installate e soprattutto i carri armati ancora in circolazione. Più di una volta tuttavia incontraste altri esseri umani chi a piedi, chi in bici come voi o in moto o automobile. La maggior parte indosssava la tuta, ma c'era chi invece non era stato contaminato o si era semplicemente immunizzato. Comunque sia la sorpresa era sempre la stessa e reciproca. E spesso si dilungava molto, finendo sempre con una stessa ed unica domanda : "Ma dove sono finiti tutti? Non è possibile che siano tutti morti" Talvolta anche alcuni carri armati vi avenano sorpreso e contrariamente dalle vostre aspettative eravate riusciti a stabilire un contatto e a ripartire con qualche notizia in più.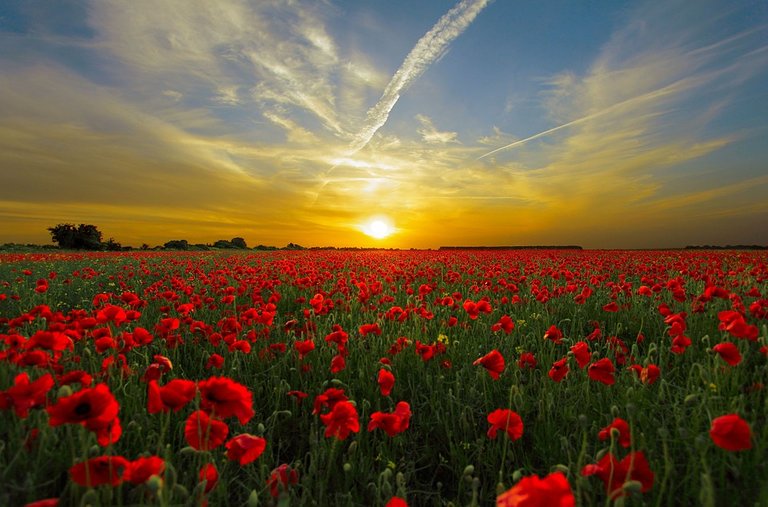 United
1. Perfumes
Waking up on the farm was a pleasant moment, you didn't know how much you had slept but probably over 10 hours. A strange dream, you didn't remember well, a newborn baby crying alone in the middle of an empty room, a timeless dream that gave you the awareness of how much I felt abandoned. The baby you dreamed of was you, alone, now that Sara didn't recognize you anymore. A feeling that gave no more room for despair. This was a lightning, clear and precise consideration. You were abandoned by the whole world, even by your wife, but you did not feel the inevitable desperation that logic would legitimately impose on you. In that April full of flowers you felt like you were guided by a different awareness, the awareness of being like the last of the survivors. Did you know that you were not the only one and that many other wearers were looking for regions of the world to repopulate. You got out of bed, opened the window and simply admired the beauty of the countryside around, the chirping of finches, the warmth of the sun, the infinite colors of spring and above all the scents. You had no recollection of such clean, precise, distinguishable perfumes. The suit was equipped with a filter that blocked only the nanometric size of the viruses, but let everything else pass. Your nose seemed hypnotized by all those scents of an enchanted spring, of a nature to which you no longer felt extraneous, despite that suit of forced confinement. You felt included again and that was a nice discovery.
You heard noises from Sara's room and the door that opened. Sara limped visibly leaning on the door she took a few steps. You looked at each other for a few moments in silence. For a moment your hope that what had happened the day before had vanished and that she had found her memory grew stronger. Qunidi Sara said:
"How are you?" "Well thank you and you? How did you sleep?"
With an absent expression he replied "Well, where are we?"
"We are in the countryside and we managed to escape that pack of hungry stray dogs."
Looking at you carefully he replied:
"Yes, I remember well, but I can't remember anything else, except that the two of us have many things in common, I have pictures of us in different situations, but I can't connect them."
He took a deep breath, looked at you and then added:
"One thing, however, I understood that I can trust you and that you saved my life yesterday"
Then he came over and noticed a caress that made you move.
2. The bike
You took a look at the house and checked the contamination parameters to find that the house was infected and that the virus had managed to survive very well on most materials. The latest news received at home during the emergency was that more artificial materials allowed for better conservation of the virus. Leaving that house you decided by mutual agreement to continue south, but it was not possible for Sara to continue walking, her fractures caused her too much pain, despite the fact that the suit was equipped with painkiller. Looking around the farm you discovered some forgotten bicycles in the bottom of a garage, and with great surprise a double-seat electric bike, not a tandem, but a bike with a guide sitting down. In addition, the bike was equipped with a solar panel as a roof and a trailer with a solar panel included. The joy of discovering such a vehicle was great, it remained to be seen if it worked. Then you pulled it out of the garage, the display did not light up immediately, but after a few minutes it began to indicate the load power and that present in the battery. you said it to Sara, who exclaimed for joy. You decided to wait two more days to allow the bike to recharge and you to rest. The bike still had the name plate of the SunTrip, a race dedicated to all fans of solar bikes that came from France to China. Obviously electricity was starting to run out and had been regimented, also you had not found the charge betterie. The sun was doing a perfect job.
3. The direction
You didn't really know why you chose the South as your direction. You had no data, the only certainty were only the latest statistics shared by the Civil Protection about Italy and the ultraviolet rays of the sun which seemed to be the only best sterilization methods. By simply taking a tent always found in the garage and some tools you set off without hesitating yet. The national road was deserted and your GPS was guiding you effectively, trying to avoid the big cities. You skipped Parma, Piacenza, however you managed to take an unpaved road that followed the Po and you decided to follow it to Ferrara, after which you continued towards Bologna always carefully avoiding the large tent cities that had been installed and above all the tanks still in circulation . More than once, however, you met other human beings, those on foot, those on bicycles like you or motorbikes or cars. Most wore overalls, but there were those who had not been contaminated or simply immunized. However the surprise was always the same and mutual. And often it went on and on, always ending with the same and only question: "But where did they all go? It is not possible that they all died" Sometimes even some tanks surprised you and contrary to your expectations you were able to make contact and start again with some more news.